Fifth Grade Bhutanese Refugee Building American Life
Posted:
Updated: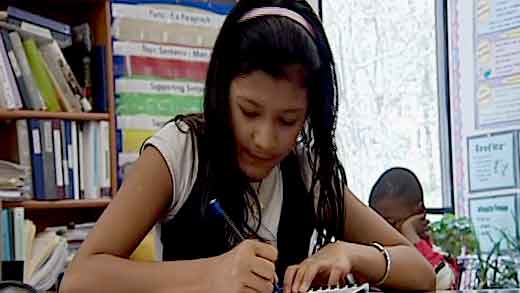 The International Rescue Committee helps refugee families begin a new life in America - many even in Charlottesville. For families with children, school is an immediate concern.
Rabina Bhandari is wrapping up her first full year of going to school in America as a fifth grader at Walker Upper Elementary. She is a Bhutanese Refugee who came here from Nepal, barely speaking English.
Beverly Catlin, coordinator of instruction for Charlottesville city schools, stated, "Depending on the literacy background of the child in their native language, could be beginning with what are the letters of the alphabet and what are the sounds?"
In Virginia, ESL or English as a second language students are immersed in English at school - especially when interacting with teachers.
"That's our job as instructors to look at these kids and say what's the best balance between being in the regular classroom and being with ESL teachers," said Catlin.
Some teachers use a mixture of language, illustrations, even hand gestures to help students acquire an academic vocabulary. If they understand the words, the whole curriculum is open to them.
This year Bhandari is taking a mixture of ESL and mainstream classes. It was tough at first.
"When I see another person I am really scared. When they talk to me and I don't understand so I just say yes ok, like that," stated Bhandari.
But as she wraps up her first year, things are a lot better. She's even comfortable enough to reach out and help other ESL students.
"Like we are teaching her to read books, stories and teach her to speak English," Bhandari said.
The goal for all ESL students is to build their English skills and test out of the program.
Catlin stated, "We are constantly checking in to see if they are happy in the journey are. We make sure we are making progress. We ask are things going the way we want but its not going to happen tomorrow."
They are building their American life, one English word at a time.