One Year Anniversary of Yeardley Love Death
Posted:
Updated: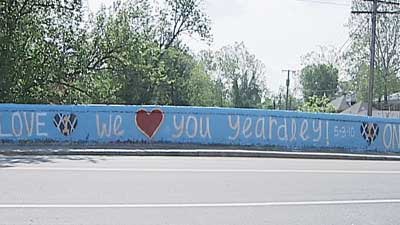 A year ago police were investigating a high profile murder.
It was on this date last year that University of Virginia lacrosse player Yeardley Love was killed. Her estranged boyfriend, former UVA lacrosse player George Huguely, is charged with her murder. Her death created greater awareness of dating violence and even led to changes in the law.
The message on the Beta Bridge is Love - Yeardley Love. Monday night friends painted the bridge to mark the one-year anniversary of her death. Some students walking by have stopped and paused for a minute, others have taken pictures.
One year ago, police found Love's body, beaten to death in her apartment. Her ex-boyfriend, George Huguely, is charged with her murder. The two had a reported troubled past.
Love's death prompted change in the state's protective order law. It now applies to couples who are dating or not married. A person can now get an order through general district court, instead of juvenile domestic relations court and the individual does not have to have a criminal warrant.
Cardie Lominack of the Shelter for Help in Emergency said, "In the past someone has had to have a criminal case going forward at the same time accessing a protective order, that's no longer the case."
The Shelter for Help in Emergency says the law opens the door, providing equal access and protection for more people. The protection will vary on a case by case basis, and can include work and school. The change goes into effect July 01.
Love's sorority is remembering their sister by wearing T-shirts that say 'One Love' and 'Every Yard for Yeardley'. Theta is also holding a private dinner Tuesday night in honor of love. The sorority is asking people to respect its privacy during this difficult time.