Greene County Triple Murder
Posted:
Updated: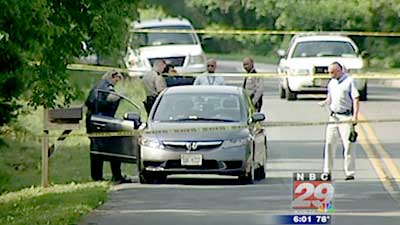 Two Charlottesville men are dead, two of the three victims in a triple murder in Greene County Tuesday morning. Investigators are searching for whoever shot and killed them and left their bodies in the middle of a country road.
The crime scene now spans three locations in two counties and that has police working together on a manhunt for a murderer. The Greene County Sheriff's Office, Albemarle County Police Department and Virginia State Police are investigating the triple murder that happened early Tuesday morning, north of Stanardsville.
Around 3:00 a.m. Tuesday, three bodies were found on Octonia Road, not far from South River Road. The Greene County Sheriff's Office says officers found the bodies of two male victims and one female victim. The victims all suffered gunshot wounds.
Later, a bullet riddled and blood-stained Honda was found on Old Brook Road in Albemarle County. A bloodhound was taken to scene.
Major Randall Snead of the Greene County Sheriff's Office held a press conference about the murders at 11:00 a.m., releasing the following information:
A home invasion and attempted robbery involving two males was reported in the 900 block of Ford Rd. in Stanardsville around 3:00 a.m.

While police were investigating the home invasion, a 911 call was received about bodies in the 1900 block of Octonia Rd. near South River Road.

3 bodies were found on Octonia Road; two males and one female.

Authorities are withholding identities of victims from Greene County triple murder pending notification of next of kin.

The home invasion took place 1.5 miles from the Octonia Rd. location where the bodies were found.

Multiple agencies are investigating a possible link between the home invasion and the bodies found.

Police believe the two incidents are linked, based on witness statements and evidence collected at both scenes, but they are still investigating, they can't say for sure.

The bullet-riddled, bloody car found on Old Brook Rd. in Albemarle County is believed to be connected to the triple slaying in Greene County. There was front drivers side damage to the car, believed from running off the road.

Police are still actively looking for possible participants in this action. They are following up on leads, numerous agencies working with them.
The Greene County Sheriff's Office held another press conference at 5:00 p.m., in it they identified one of the victims as 26-year-old Brian Lee Daniels of Charlottesville.
Late Tuesday evening the second victim was identified as 25-year-old Dustin Tyler Knighton from Charlottesville. The name of the third victim is being withheld pending notification of her next of kin.
Neighbors near the scene where bodies were found say they heard and saw nothing suspicious overnight.
Investigators say they are following several leads in Greene and Albemarle counties. They're not naming any suspects and no arrests have been made. If you have information that could help - please call the Greene county sheriff's office at 434-985-2222.
---
Greene County Sheriff's Office
1045pm News Release
Good Evening,
The following information is an update to this morning's triple homicide.
Investigators from Greene and Albemarle continue to interview witnesses, acquaintances and family members of the victims. There still have been no arrests made and we have no suspect names to release at this time.
At this time the victims have been identified and next of kin have been notified.
We are releasing the names of the two male victims but are withholding the female's identity at this time due to additional family notification concerns, as requested by the family.
Brian Robert Lee Daniels 26 year old male of Charlottesville
Dustin Tyler Knighton 25 year old male of Charlottesville
The Greene County Sheriff's Office appreciates all of the information and tips that have been offered and continues to ask anyone who may have any information to please contact the Greene County Sheriff's Office at 434-985-2222 or our Crime stoppers Hotline at 434-989-2110.
Thank you
Major Randall Snead
Greene County Sheriff's Office
434-985-2222