Senate Reaches Tentative Redistricting Agreement
Posted:
Updated: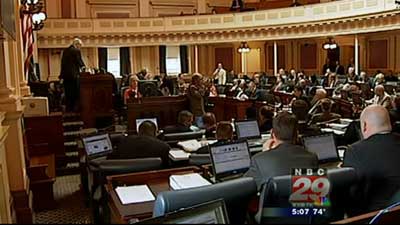 State senators have reached a tentative agreement on new district lines, signaling the possibility that Virginia's redistricting fight will stay out of court.
Republicans and Democrats still had a number of issues to resolve late Wednesday, but said they planned to return to the Capitol on Thursday morning to debate the plan.
Earlier in the day, lawmakers in the House of Delegates voted 80-9 in favor of a plan that shifts House district lines to reflect changes in population.
"I wanted to see a bill that was fair that was a good map, that was a fair map," said Del. Chris Jones, R-Suffolk, the bill's sponsor.
Gov. Bob McDonnell vetoed the first redistricting plan largely because of concerns over the Senate portion. House Republicans made some tweaks to their map, but Democrats say it's still not good enough.
"Nobody is fooled: not the Republicans, not the Democrats, not the media that is sitting in the back and certainly, most of all, not the public," said Del. Joe Morrissey, D-Richmond, during a speech on the House floor.
Del. Jeion Ward, D-Hampton, said she was ashamed of voting for the original bill.
"It was the hardest vote I've ever taken when I voted yes because I knew that what I was doing was for myself," she said.
Wednesday Ward voted no, saying the plan should not protect incumbents.
"I know I want to have a very long legislative history, but today I just want to do the will of the people of this Commonwealth."
If lawmakers cannot reach a final agreement by early May, the redistricting fight will head to court, for a judge to set Virginia's political boundaries. Lawmakers met for hours behind closed doors to reach a compromise and avoid a trip to court.