"Virginia is for Lovers" Message Branching Out of Virginia
Posted:
Updated: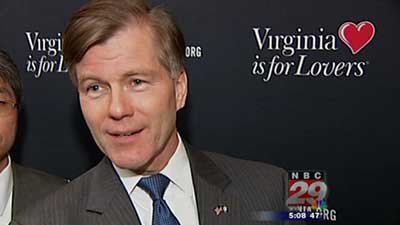 The Commonwealth's message that "Virginia is for Lovers" hasn't been getting to people outside the state for nearly five years because budget cuts forced the state to stop television advertisements.
But all that is changing, just in time for the summer travel season.
Monday, Governor Bob McDonnell unveiled a new, 30 second television commercial that will hit the air in eight major cities this month, as Virginia tries to lure drivers and their dollars.
"They're heavy metropolitan markets, a lot of the young families are in these markets," said Alisa Bailey, president of the Virginia Tourism Corporation.
The ads will run in New York, Baltimore, Washington, Philadelphia, Raleigh-Durham, Cleveland, Columbus and Cincinnati. The package cost $8 million but the state put up only $1 million of that; the rest came from other tourism groups.
McDonnell says the investment is worth it.
"With a five-to-one return, there are very few economic development programs that we've got that give this kind of bang for their buck," the governor said.
McDonnell has long pushed for a greater investment in tourism programs, an effort he says will bring more jobs to Virginia. The legislature agreed.
"So even while we were cutting $6 billion out of a three-year budget, they invested about $60 million in things like economic development," McDonnell said.
But this year, some lawmakers grew skeptical of the spending.
"They gave me a little bit but they did not give me all the money we asked for," McDonnell said.
The ads mark the first time Virginia has advertised on out-of-state television in years. Tourism brings in nearly $18 billion a year for the state's economy, and supporters of the campaign hope to see that number grow as more people travel here.
"Virginia delivers on our promise for a wonderful vacation," Bailey said.