Without State Funding Lynchburg- DC Line May Get Derailed
Posted:
Updated: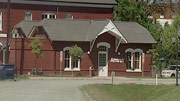 In it's first year, more than 120,000 passengers took the train that runs on this track up to DC.
Trains running from Lynchburg to DC have plenty of passengers, but advocates say those trains can't stay on track without the state stepping up with cash. In it's first year, more than 120,000 passengers took the train that runs on this track up to DC.
Right now, there's enough money to support the service through 2011. After that, the future of passenger trains here in Charlottesville is unknown. Charlottesville's Amtrak Station was crammed with commuters Friday morning with more than 100 passengers heading north on the tracks.
Amtrak passenger Sarah Simpson, enjoys riding the rails, "I'll have extra time and it's less stressful," she explained.
Susan Hess, another Amtrak passenger added, "To me, there's no question that this should be a priority for our state."
However, if the commonwealth doesn't invest in the rail system soon, there could be no more stops at this station.
Meredith Richards of the Piedmont Rail Coalition stated, "We're going to need continued, sustained funding to operate the trains."
On Friday, it was a full house at the Piedmont Rail Coalition's Legislative Forum. Advocates voiced their insights on why train travel should grow in Virginia.
Executive Director of Virginians for High Speed Rail Daniel Plaugher continued, "We need to keep handling down on our elected officials to let them know that rail is an important piece of the transportation system."
The Lynchburg to DC line is profitable. It made more than $6 million in revenue in it's first year of service, but that may not be enough in years to come.
"We have to get money in the bill and we have to find a dedicated revenue source to support it," declared Richards.
The transportation bill facing the General Assembly includes a fund for passenger rail, but no money. Getting financial support from the state is the next step in securing the future of the trains and their customers.
"Progress is happening" said Plaugher on Friday. "Things are moving forward, but now is not the time to quit."
The House passed the transportation bill on Friday and the Senate is set to take it up early next week. Currently, the commonwealth is considering five or six options for rail fund revenue, but it will be another year before that decision is made.