End of Massive Resistance Remembered
Posted:
Updated: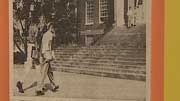 A newspaper picture from the 1950s shows two African American students approaching the entrance of Lane High School.
The history of school desegregation in Virginia took center stage Tuesday. Dozens of people got together at Charlottesville High School to remember the end of Massive Resistance, the movement that closed schools to resist desegregation in the 1950s.
Tuesday, the state's special subcommittee on the 50th Anniversary of Virginia Public School Closings made a stop in Charlottesville. Charlottesville is one of three school districts in Virginia that closed schools in the 1950s, even after receiving court orders to integrate.
Tuesday, a town hall meeting allowed people to discuss some of the lessons learned from that hard period in history.
"It's very sad to know that our community, along with any communities, would shut its school system to anyone," stated Charlottesville Student Services Director Beth Baptist.
Those in attendance enjoyed special music selections from Charlottesville High School's orchestra and chorus. Students spent weeks creating artwork to commemorate those who fought for integration.
"Our students need to know what the adults did in the past, but they're the ones leading us into the future," said Baptist.
Bessie Williams was teaching at Jefferson Elementary School when the schools were closed due to Massive Resistance. She was one of the many who played a role in the integration of Charlottesville City Schools.
"We knew when we were doing it that we were pioneering," said Williams of her role integrating the schools. "It was not about us, but it was about what was going to happen in the future."
While Williams says it is inspiring to see how far Charlottesville has come since those days, she says it is important for students to remember those who fought to make a change in the community.
"We do know that our past makes our present, and the present is going to make the future," she said.
Tuesday's town hall meeting comes after an emotional resolution that was passed by Charlottesville City Council last fall. In the resolution, the council apologized for the role its predecessors played in keeping schools racially segregated during the 1950s.