Monticello Seeds Sprout At White House
Posted:
Updated:
Michelle Obama, who has twice visited Monticello, is working with the agriculturalists there to plant new life in the White House's vegetable garden. Some of that cooperative growing is just being harvested, and the White House produce is being put to good use as part of Mrs. Obama's healthy eating initiative.
Growing your own fresh produce is part of the program and it was inspired by what Thomas Jefferson did at his home in Charlottesville. First lady Michelle Obama and dozens of children dug right in Wednesday, Harvesting hundreds of pounds of fresh vegetables from a small garden on the South Lawn at the White House.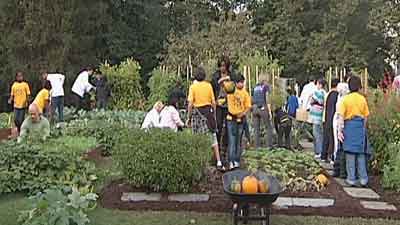 "Monticello and Thomas Jefferson were an inspiration for us from the very beginning," said White House Chef Bill Yosses. "It's really the soul of our garden here."
Yosses and Chef Sam Kass are both spearheading Mrs. Obama's eat healthy initiative, one that got its start at Monticello. In early 2009, a chef from the White House went to Monticello to tour Thomas Jefferson's gardens. But he got more than a history lesson; he was able to take back hundreds of seeds back with him to Washington.
"It's a nice relationship," said Monticello Director of Gardens and Grounds Peter Hatch. "It's great to see Jefferson's legacy in food and gardening carried on."
Hatch is responsible for Monticello's entire garden, three football fields in length. It is home to a colorful palette of vegetables, fruits and herbs. In the early 1800's, Jefferson experimented with 170 types of fruits and 330 varieties of vegetables, including unique lettuce, rare spinach and plenty of peppers.
Many of them were also grown at 1600 Pennsylvania Avenue. Some of Jefferson's favorites include the Marseille fig, French artichokes, and purple calabash tomatoes.
"So many of these plants were put in a special section of the White House Kitchen Garden reserved as a tribute to Thomas Jefferson," Hatch said.
Now with the harvest complete, some of the vegetables will go to a local food pantry, the others into the White House serving the first family; vegetables that Thomas Jefferson grew 200 years ago.
"He was sort of on the cutting edge of the things we pretty much cherish today in terms of local food," said Hatch.
Now Jefferson's heirloom seeds have a special section in the White House Kitchen Garden; a tribute to an innovative gardener.
"They are amazed that we have this link with the past and a food past, a very important past of heirloom vegetables that taste so delicious and that we're growing them here," said Yosses.
If you want to get in on the action, heirloom seeds are available at the Monticello Visitor Center.
Monticello Seeds Sprout At White House

More>>

The White House Kitchen Garden includes a section referred to as the Thomas Jefferson Garden. The plants there are growing from seeds donated by Jefferson's Monticello Gardens in Charlottesville.

Full Story

First Lady Michelle Obama and White House chef Sam Kass tell the story of the first garden on White House grounds since Eleanor Roosevelt's Victory Garden during World War II.

Full Story

First Lady Michelle Obama and White House chef Sam Kass tell the story of the first garden on White House grounds since Eleanor Roosevelt's Victory Garden during World War II.

Full Story