Fall Fire Season Begins
Posted:
Updated: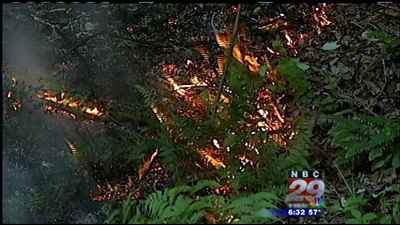 When the leaves turn bright yellow, orange and crimson it's a sign fall is in the air. While it's a welcome time of the year for many, it's a concern for the Virginia Department of Forestry.
Fred Turck is the Fire Prevention Educator with the Virginia Department of Forestry and said 95 percent of wildfires are caused by people and most of them are preventable.
"We had a terribly dry summer, one of the hottest driest summers on record and we were looking to have a pretty significant fall fire season," Turck said.
John Miller is Director of Resource Protection with the Virginia Department of Forestry and said the fall fire season begins October 15th and continues through November.
"Typically our fall fire season, we'll see three or four hundred fires which burn another about 3,000 acres," Miller said.
The Virginia Department of Forestry is targeting adults and kids with educational campaigns. Turck is busy creating posters and updating his latest endeavor, a blog where he gives tips. Recently, he wrote a children's book that won him the Golden Smokey, a national award recognizing his accomplishments in fire prevention education.
"It was an idea that I had and sketched out some drawings then it was presented to the national folks who then took it to commercial artist and really put it together and published it. It's been well received all across the nation," Turck said.
Many wildfires in the fall are started when burning leaves and brush gets out of control. Parking cars on piles of hot dry leaves can also spark a flame.
"Like Smokey says, only you can prevent wildfires and so we need people's help to prevent the wildfires," Turck said.
When burning leaves, the Virginia Department of Forestry recommends burning small piles, have water on hand and a cell phone nearby to dial 911 if it gets out of control.