Child Mental Health Rally
Posted:
Updated: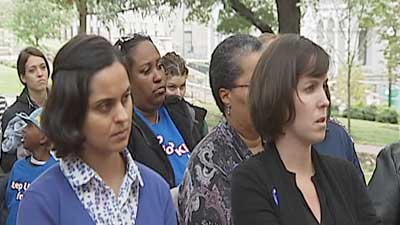 Parents, caregivers and doctors are pushing for sweeping reforms to Virginia's mental health system - changes, they say, that could save lives.
Tuesday, members of a coalition of non-profits rallied outside the Capitol Building in Richmond. During the event, Alex Slusher held up a picture of her son, Stuart.
"This is what depression looks like," she said.
Last year, as he was beginning to fill out college applications, Stuart committed suicide. His mother had tried to get him help, but they were told the waiting list to see a counselor was months long. Now, she's among those pushing for more services to help children with mental illness.
"We need to do something about it before it's beyond our control," she said.
One out of every five children in the United States suffers from a mental illness. Folks at the rally claim services in Virginia are woefully inadequate.
"Finding good psychiatrists, finding good psychologists is something that is very, very hard in most of this country and especially in Virginia," said Erik Christenson, a 22-year-old who has struggled with mental illness most of his life.
During the past two General Assembly sessions, mental health advocates have pushed lawmakers to avoid deep cuts to state-funded programs.
"We have been advocating, of course, during the recession to stay strong for kids," said John Morgan, executive director of Voices for Virginia's Children, a non-profit that advocates for changes at the assembly.
But it's about more than just money. Supporters say mental health services - especially those for children - are fragmented, scattered and inconsistent.
"Depending upon where you live you might be able to get services or you might not," Morgan said.
The group plans to push a package of reforms through the legislature, starting with smaller changes during the session that starts in January. More significant reforms likely will have to wait until 2012, when there is expected to be more state funding available.