Campus Kitchen Cooks For Cause at UVA
Posted:
Updated: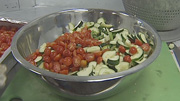 Once a week, students take over the kitchen of Runk Dining Hall at UVA.
Some students at the University of Virginia are making sure their dining hall food doesn't go to waste by helping hungry people in central Virginia get meals on the table.
Campus Kitchen is cooking for a cause at UVA by taking food that would probably be thrown away and giving it to the Charlottesville community one meal at a time.
Campus Kitchen turns shelves of food from dining halls on grounds and produce from the local food hub into meals for central Virginia food pantries. Campus Kitchen is a national organization with 25 colleges and universities that participate in the program across the country.
Campus Kitchen Coordinator Atlee Webber said, "I thought it was kind of a no-brainer idea. You have all of this extra food in the dining halls and you're just, you know, either throwing it away or freezing it and then not using it."
Campus Kitchen Shift Leader Kate Colwell said, "Really a win-win situation for everyone because this way you know the dining halls aren't wasting anything and it's a great way to feed people who don't have enough to eat."
Once a week, students take over the kitchen of Runk Dining Hall at UVA. The students map out the menu based on the donations they have and begin cooking. This week, students will prepare beef, potatoes and salad, but not without a little help. Executive Chef of Runk Dining Hall Joshua Windley attends to primarily share his culinary expertise.
"That way they are learning how to cook the items as well as putting pride into the food they're putting out, instead of just taking some of the unused portions that we provide and serving it out there," he said.
Some students come for the free cooking lesson, while others attend to give back to the community. "This is just one of the ways that we continue to improve relations between the university and the Charlottesville community," said Colwell.