Fluvanna Sheriff Seeking Tech Funding
Posted:
Updated: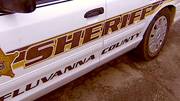 The Fluvanna County Sheriff's Office is looking to equip the rest of their cars with MobileCop software.
The Fluvanna County Sheriff's Office is looking to apply a little high tech help to their crime fighting efforts. The department is asking the Fluvanna County Board of Supervisors for funding to equip their cars with MobileCop software.
Fluvanna County E911 Communications Director Tammy Johnson said, "Currently the request is a little over $19,000. We feel that would be sufficient."
The software allows deputies to run licenses plates and check drivers licenses from the convenience of their cruiser. With just a few key strokes, the deputy can find out everything about a driver. Without the software they would have to call the 911 Communications Center for the information.
Johnson stated, "If the dispatch center is busy or their transmission doesn't come through, they're able to run that information for themselves and have that information come back to their cruiser almost instantaneously."
"It's another tool that will greatly enhance, one, the accessibility to information. They'll see it in real time." Sheriff Washington stated. "It also enhances that capability of the officer to make sure they're safe - so they know right then if someone is wanted or not."
At the beginning of the year, the MobileCop software was installed in eight of the 14 patrol cruisers. If the board of supervisors approves this request, the money would be used to purchase licenses and modems for the devices in the other six cruisers. The original eight were purchased through grant money. The department isn't ruling out applying for additional grants if the board doesn't approve the request, seeing it as a smart investment.
The 911 Communications Center also has another funding request before the board, asking for $5,000 in text messaging software for its first responders. This would allow fire and rescue to receive information about a call right on their cell phone.
The requests will be presented to the Fluvanna County Board of Supervisors at their meeting Wednesday at 7:00 p.m. in the circuit court room.