Haitian Choir Performs in Staunton
Posted:
Updated: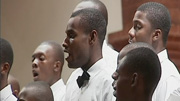 Their Haitian harmonies filled the high cathedral ceilings of Staunton's Trinity Episcopal Church Monday night.
A famed choir from Haiti called Les Petits Chanteurs, which means "The Little Singers," performed in Staunton Monday night. The choir has performed in the U.S. before at venues like the Kennedy Center in Washington D.C. and the Lincoln Center in New York. However, this time the singers are raising their voices to rebuild their home.
Jean Bernard Desinat directs his choir of 30 young men and boys. "When we perform we have to show life," he said.
Their Haitian harmonies filled the high cathedral ceilings of Staunton's Trinity Episcopal Church Monday night, but their voices are one of the few things the boys have left after January's earthquake reduced their music school in Port-au-Prince to rubble. Desinat said, "We lost five members from the group. We lost, also, the school."
"It was all shaking. I could not move," said 12-year-old Dean'o Juste who had just returned home from choir practice. However, he and his choir friends didn't stop moving for long.
"Music, it is our tradition. Everybody is dancing," said Juste. "If they're planting seed, they're dancing. If they're working, they're dancing and singing." This family, bonded by music and brought closer by devastation, performed their first concert in Port-au-Prince's tent cities just two weeks after the quake.
Cellist Bernadette Williams said, "We can see the difference in their face when they heard music. They can see love." Now Les Petits Chanteurs are traveling from Georgia to Maine on a musical mission to say thank you for America's outpouring of support.
Music School Director David Cesar said, "This tour is a type of courage and hope that we would like to show this positive image of Haiti." At each stop, crowds are giving free will donations to help the music school rebuild.
Retired Priest Roger Bowen said, "It really is a resurrection story. It's a story of hope. It's a story of the potential of people to rise above desperate, desperate circumstances."
However, they're not just rebuilding classrooms and buying new instruments to replace what the earthquake ruined. "We are ready to go to the next level, a conservatory," said Cesar. "A music conservatory for our nation."
Desinat hopes his choir can inspire others by sharing the spirit of Haiti. "Haiti is always life. We've got a mission to go everywhere and show that life," said Desinat. "That's why we are so happy to sing."
The singers stayed with families around Staunton Monday night. They will be performing at R.E. Lee Memorial Episcopal Church in Lexington on Tuesday.
To support the Holy Trinity Music School in Haiti, send a check with "Les Petits Chanteurs" in the Memo line to:
Trinity Episcopal Church, P.O. Box 208, Staunton, VA 24402