Schoolyard Garden Flourishing
Posted:
Updated: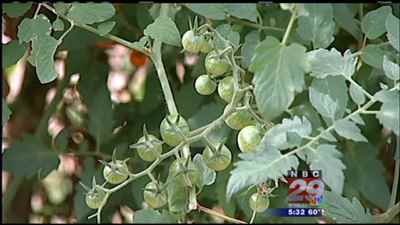 Students in the Garden Club at Buford Middle School in Charlottesville planted seedlings last spring and now the schoolyard garden is flourishing. Now back from summer break, the kids are checking out how their garden has grown. Linda Winecoff is a mother of a Buford Middle School student. She applied for a $25,000 grant so the garden could be created.
"We don't expect that we're gonna be able to supply the cafeteria with food but for the children to come here to pick a ripe tomato or taste the pepper, it's really what we're interested in," Winecoff said.
The schoolyard garden is a way for kids to put what they're learning in the classroom to use. Math classes can show students how to calculate the value of the produce that's grown and English students can write news articles about its progress.
Rachel Williamson works in the garden and teaches the kids.
"You're learning and working together in a space that you can see physical evidence of products of your work," Williamson said.
Shaun Braxton is an eighth grader and said they are cooking what they grow, too.
"We can cook anything with vegetables like tomatoes, peppers squash," Braxton said.
So far the kids have made strawberry ice cream and plan to make popcorn, said eighth grader, Elise Copas.
"We made pesto and orzo and we got to go to Mona Lisa Pasta to make pizza out of the tomatoes," Copas said.
The Garden Club hopes to expand their garden and plant fruit trees and berry bushes.