Bowles Denied Bond
Posted:
Updated: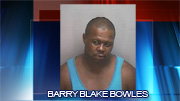 A judge has denied bond for a 47-year-old Charlottesville man accused of stabbing his wife to death.
Barry Blake Bowles appeared in Albemarle Juvenile and Domestic Relations District Court by video uplink from Albemarle Charlottesville Regional Jail for a bond hearing Tuesday afternoon. Judge Mills denied bond, ordering him to remain at the Albemarle Charlottesville Regional Jail.
Bowles is charged with first degree murder for the killing of his wife, Rachel Ann Bowles. Rachel was stabbed to death Friday night at the couple's apartment on Sixth Street southeast. When police arrived, they found her lying on the floor. She was pronounced dead at the scene.
Neighbors say the couple had been fighting that evening. Barry Bowles was arrested the same night.
A trial date has been set for December 3.