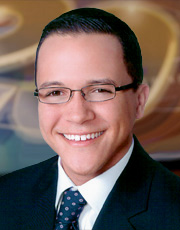 Derick Waller joined the NBC 29 news team in August, 2010. Prior to this, Derick graduated with degrees in both broadcast journalism and political science from Virginia Commonwealth University in Richmond. While at VCU he interned at WTVR-TV and reported for his college news program, VCU Insight.
Being a huge political junkie, he is grateful to have been born and raised in Richmond, but is excited to see what Charlottesville has to offer. He is especially thrilled about visiting all the local vineyards.
When he is not digging for a good story, Derick loves reading up on German cars, checking out new restaurants, and hitting the gym, usually after checking out those aforementioned restaurants.
If you have a story idea for Derick, feel free to email him.
---
Fast Facts: Derick
First TV appearance: Waving with a sign in the crowd outside The Today Show when I was 14
Most Memorable Interview: Talked to the brother of a man killed by John Allen Muhammad in the 2002 DC sniper attacks shortly after he witnessed Muhammad's execution
Dream Job: Correspondent for 60 Minutes
Favorite Food: My aunt Wendy's Macaroni & Cheese
Favorite Musical Artist: Michael Jackson
Journalistic Role Model: Katie Couric all the way. Nobody does an interview like her. She could make an interview with her mailman seem interesting.
Favorite Sports Team: Go Rams!