Girl Collects School Supplies for Boys & Girls Club
Posted:
Updated: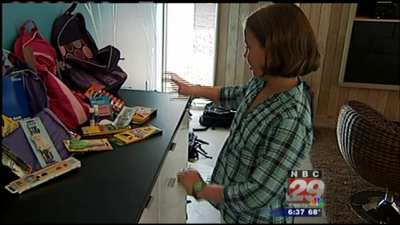 A Charlottesville girl is on a mission to help needy kids in the community start the school year off right with school supplies. She's only 10 years old and she's been busy all summer with a charity she started called Backpack Buddies.
Lucia Hoerr will be a fifth grader at Saint Anne's Belfield School in Charlottesville. While most kids her age spent the summer playing, Lucia spent the time in her backyard dubbed the "Backpack Buddies Donation Station." It's the place where she's been storing backpacks and school supplies including pencils, paper, notebooks, and glue sticks.
Understanding some kids can't afford to buy school supplies, Lucia decided to help. Using her allowance money, she created the charity last April.
"I had been searching for a charity to donate all the money," Lucia said.
She offered to help the Boys and Girls Club in Charlottesville and took on the task of filling 58 backpacks.
"That was a lot more than we expected in the beginning," Lucia said.
The brand new hip and colorful backpacks will be given to kindergarten through fifth graders said James Pierce, Executive Director of the Boys and Girls Clubs of Central Virginia.
"There is a great need and Lucia's efforts will really help us move forward and make sure all of our kids are ready for school," Pierce said.
Realizing she needed help, Lucia sent out flyers to family, friends and neighbors and created a facebook page asking the community to donate. She also recruited her big sister, Berkeley to lend a hand.
"Yeah it's a fair amount of work," Berkeley said.
"She is delightful and for a kid this age to be thinking philanthropically about others and service to the community, what an amazing kid," Pierce said.
Lucia said it was a challenge but well worth it.
"It feels amazing and I feel really proud of myself for reaching the goal," Lucia said.
Lucia hopes to make Backpack Buddies an annual fundraiser.