JMU Debuts Football Stadium Expansion
Posted:
Updated: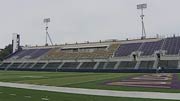 JMU's Bridgeforth Stadium has nearly completed phase one of its expansion.
The first phase of James Madison University's $62 million expansion of Bridgeforth Stadium is nearly finished ahead of the football season home-opener on September 4. JMU invited chamber of commerce members from Augusta County and Harrisonburg to take an insider's tour of the halfway-expanded stadium Wednesday night.
Megan Argenbright, a JMU alum, was among the first to see the changes that other fans will see in a few weeks.
"They're just going to be blown away," she said.
Demolition crews tore down the westside grandstands at the end of the 2009 football season. That has all been rebuilt. The Dukes will open the 2010 season with new bleachers, a club section made up of gold-painted seats, additional bathrooms, and room to fit several hundred additional fans.
"All the seats in the stadium, there's much more room between the aisles," said JMU Director of Athletics Jeff Bourne. "It's just more customer-friendly."
Construction will pause while the team plays its season in Bridgeforth. Then, phase two of the expansion begins. A suite level, top-tier deck of bleachers, and a new press box will rise to a total of 13-stories high. The finished Bridgeforth will increase capacity from 15,000 fans now, to 25,000 for the start of the 2011 football season.
"Our goal is to compete at the very top, and of course we're going to have a facility that's, in my opinion, nicer than anybody else in the country compared to us," Bourne said.
JMU fan Brad Chewning hopes the expanded and improved stadium will fill up with even more fans.
"The facility really meets what the team has accomplished," Chewning said while touring the stadium. "The seats are nicer. The view of the field is nicer. It's just going to be a first class facility."
Fans can tour the stadium on Meet the Dukes Day Saturday, August 21 from 9 a.m. to 1 p.m.