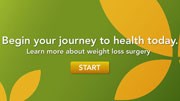 For individuals considering Bariatric surgery, Martha Jefferson offers a free monthly seminar titled "About Bariatric Surgery." Led by one of our Bariatric Surgeons, the seminar can help you answer the following questions about Bariatric surgery:
Is weight loss surgery the best option for me?
What specific type of Bariatric surgery will help me meet my weight loss goals?
What other services does Martha Jefferson's Bariatric Care Center offer to support my needs?
What is the next step?
The seminar is FREE and registration is required. There is also an online option available for those who prefer that method. For more information, or to register, call Health Connection at (434) 654-7009 or 1-888-652-6663.