WSVA Celebrates 75 Years Of AM Radio
Posted:
Updated: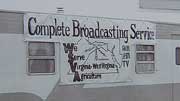 In the days of satellite audio and Internet streaming, one Shenandoah Valley broadcaster celebrates 75 years of good-old-fashioned am radio. Harrisonburg's WSVA has survived decades of change by sticking with a simple formula: live and local.
The call letters, standing for "We Serve Virginia Agriculture," first hit the airwaves during the Great Depression as the Shenandoah Valley's first radio station. They have survived the decades by refusing to change their formula.
"I was reminiscing with someone here recently about 1935," recalled Program Director Frank Wilt. "That all the music was live, the news was live; everything was live. They quickly reminded me, 'Well, you're still live today.'"
NBC29 Weatherman Norm Sprouse was behind a WSVA microphone for 11 years, and knows the power it wields.
"During the day they're 5000 watts non-directional," he said. "You can pick them up on the Eastern Shore."
But Sprouse has a painful memory: sharing the overnight shift with crews that waxed the floors.
"Before I could even get my hands out, I was down on the floor chin first, split open," he said. "Then proceeded to go to the studio and do the weather with blood running down my arm."
The station has since moved to new studios with state of the art broadcast equipment and safely carpeted floors.
WSVA still does a full hour of agriculture news each weekday, drawing listeners on farms in much of the Commonwealth, as well as West Virginia.