UVA Children's Hospital Featured Story: Wilson Brown
Posted:
Updated: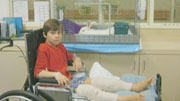 Wilson Brown is a rambunctious, active, energetic 11-year old. The last thing he wants to do is just sit around and do nothing but eighteen months ago that decision was taken out of his hands.
Wilson, like many 11-year-olds, spends much of his free time getting his kicks on the soccer field, when it's not soccer, its lacrosse, perhaps a little adventure on two wheels or hanging ten. And when winter arrives, ever since he was 2 ½, you can often find Wilson on the slopes. That's where he and his family were back in December of 2008 - up on wintergreen.
While his mom and sister headed back to the car, Wilson and his dad, Luke, decided to make one more run. Panic struck in just moments after they reached the bottom of the hill as an out of control snowboarder just missed Luke Brown and came barreling into Wilson.
Wilson said, "It hurt. I was in shock. I don't really remember a lot of things but it was scary and it hurt."
What hurt was Wilson's two legs, both of which had been fractured. Wilson was airlifted to the University of Virginia Children's Hospital. After 2 1/2 hours of x-rays, he went into surgery with Dr. Mark Romness at around 1:00 a.m.
Dr. Romness said, "For both the legs, they were open injuries so there were big lacerations and wounds that had to be washed out. And then it's a matter of putting the bones back together and fixing them."
Wilson was in surgery for five hours. Dr. Romness stated, "One leg we did with flexible nails that go up the middle of the bone and the other was with plates and screws."
His family, feeling helpless and playing the "what if" game, could do nothing but wait. When asked what was running through her mind through the night, his mother Terrie said, "He's nine. He needs his legs. Just praying and hoping that they were able to fix both of his legs so that he could get back to doing everything that he used to do."
Finally, as the sun came up the next morning, they got good news. Mom: "We just feel very fortunate that we have the UVA Children's Hospital here and the doctors and nurses were great. We couldn't have asked for better."
A long year still lay ahead. After the initial surgery, he was confined to a wheelchair, not allowed to walk for a month. He ditched his crutches after just two months and was walking well after three.
Last fall, things started to get back to normal. He was finally physically ready to get back on the soccer and lacrosse fields.
Terrie stated, "I just look at him and everyday feel so grateful when I see him out there playing sports like he used to. We just feel very blessed because after everything he went through. They just did a great job fixing his legs."
They've come a long way from where they found themselves on Wintergreen in the winter of 2008. A place where everything came full circle this past winter when they went back to go skiing.
Terrie said, "We all went back as a family and skied together this year and it was a little crazy the first day out but it all came back to him."
Wilson's story is just one of the amazing stories we look forward to sharing with you this weekend at the annual UVA Children's Hospital Telethon.