Louisa Police Investigating Home Invasion
Posted:
Updated: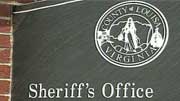 Louisa County sheriff's investigators are trying to find the man who attacked and beat an elderly woman in her bedroom early Saturday morning.
We have been told the victim was hit so hard that several bones in her face were broken. The man who did it threatened her with more violence and stole two handguns before leaving.
If you have information, call Louisa County CrimeSolvers at 1-800-346-1466.
Reported by NBC29 HD News
---
NEWS / MEDIA RELEASE
DATE: May 24, 2010
INCIDENT DATE: May 22, 2010
INCIDENT TIME: Midnight/Early morning hours
INCIDENT TYPE: Home Invasion
LOCATION: Elm Street, Louisa, Virginia
CRIME: B&E, Assault, Grand Larceny
INVESTIGATOR: Det. Rick Baker Assisting - Det. Buck Garner
OTHER AGENCIES INVOLVED: Town of Louisa Police Department
NARRATIVE: An elderly woman was awakened by a loud noise in her home in the town of Louisa in the middle of the night May 21-22, 2010. She awoke and was attacked in her bedroom by an unknown black male. The suspect threatened further violence and stole two handguns from the home. The victim suffered some broken facial bones and was treated at UVA Medical Center.
Louisa County Sheriff's Office and Town of Louisa Police responded to the scene and conducted an investigation. Louisa K-9 Bloodhound Shaker was utilized in the investigation response. Evidence is being submitted to the laboratory and follow-up investigation continues.
Anyone with information regarding this violent crime is asked to call Louisa County Crimesolvers at (800) 346-1466 or Louisa Sheriff's Office at (540) 967-1234.