Murder Suspect's Apartment Searched
Posted:
Updated: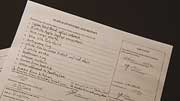 New information could prove key to the Yeardley Love murder investigation.
University of Virginia lacrosse player Yeardley Love, 22 years old, was found dead just after 2:00 Monday morning by her roommates. Within hours, 22-year-old UVA lacrosse player George Huguely was under arrest, charged with first degree murder.
Court papers filed Wednesday detail what detectives took from George Huguely's apartment Monday afternoon.
The search warrant, first obtained by the Daily Progress, shows Charlottesville police seizing a red stained UVA lacrosse shirt and a letter addressed to 22-year-old Yeardley Love. Among other items they also took are two apple laptops and a spiral notebook.
Lieutenant Gary Pleasants of the Charlottesville Police Department said, "We are reviewing both of their computers to see what information may be in them."
Love's body has been released by the medical examiner's office in Richmond which means the autopsy is now complete but investigators are still waiting on the autopsy findings.
Pleasants stated, "We're looking for anything that is unusual with the body. Whether it be something that's in the body or something that's occurred to the body."
Investigators continue their interviews as well. But we're told one interview leads police to five different things and the case just continues to widen.