Harringtons Stop By John Paul Jones
Posted:
Updated: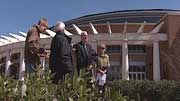 Wednesday marks the five month anniversary of Morgan Harrington's disappearance in Charlottesville. Her parents Dan and Gil spoke with reporters in front of John Paul Jones Arena.
They asked everyone to think about anything they may remember about the night their daughter disappeared. The Harringtons also say they want to bring attention to safety at the University of Virginia, and the Charlottesville area; especially for women.
"There's no video equipment on campus, and lighting on campus is not good," said Dan Harrington. "So security on campus, or on the Grounds, security in town is an issue I think."
"We do have her body, which is a comfort," said Gil Harrington. "But we don't have answers, and we need answers and we need justice."
The Harringtons say they are still waiting on the autopsy report, which could take a few months.