BGF Team Returns From Haiti
Posted:
Updated: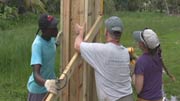 It may take generations for Haiti to get back to where, and what, it was before the earthquake. It is one thing to see Haiti on television, and quite another to be there; the damage is worse, the conditions more primitive, and the people more amazing than anything you can imagine.
With the team from Building Goodness Foundation back home, it does not mean the work in Haiti has come to a stop.
"We're trying to give the Haitians a knowledge base to go off of," said BGF Volunteer Michael Boggs.
Throughout our week in the third-world country, we made connections through words and actions; not just doing for them, but teaching the Haitians how to help themselves.
"The Haitians crowd around and they want to watch what we're doing and they want to see," said Boggs. "They want to help us."
"I've been learning to operate the cement mixer," said Rodney, a Haitian. "I've been learning how to put concrete mix into the forms."
The Community Development Program here in L'Acul, Haiti, employs more than 600 Haitians; 600 hundred Haitians who are willing to work and very eager to learn new skills.
"I'm feeling that I can become more strong as long as I keep working with them," Rodney added.
Louise Finger showed some teens and young adults how to use tools. Vinnie Valentino, a stone mason, worked hand in hand with Haitians teaching them some of his concrete smoothing techniques.
"They don't have the education to know how to place their steel and how to epoxy things in," explained Boggs.
Leaving behind more than just a wall, a foundation, a roof.
"I feel extremely fortunate that I've had the chance to come down here and help out," said BFG Volunteer Taylor Quarles. "I hope the effect we've had here is a long lasting one."
Another Building Goodness Foundation team will be heading down to Haiti in two weeks to continue the work that we started.