A New Life For A Helping Hand In Haiti
Posted:
Updated: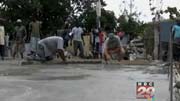 The Building Goodness Foundation volunteers and Haitians are teaming together to help rebuild a home in St. Etienne. A home for some who are very deserving of it.
For Clement Tercelin, this day could not come any sooner; a new foundation, a new house, a new beginning for him and his entire family.
"I am very happy because [the Community Development Project] is doing a great thing for my family and for me," said Tercelin. "It's a thing I'll never forget in my heart."
Tercelin's house was damaged beyond repair during the earthquake. His family, too afraid to go back inside, setup camp next door.
"It all shook," Tercelin described. "The front porch area fell down completely and the rest of it was very cracked."
Tercelin has been working for the Community Development Project in Haiti for 20 years and with BFG since 2003. And now BFG is giving back to a man who has given so much of himself.
"He is always 100-percent willing to do anything possible to help us along the way," said BFG's Taylor Quarles. "So I really feel inspired by his enthusiasm throughout the process."
With the foundation poured, another team from BFG can now start building the actual structure in two weeks.