Decreased Wait Times Improve Quality of Care
Posted:
Updated: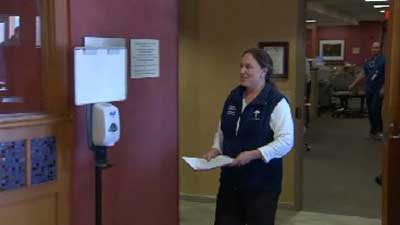 Martha Jefferson Hospital has recently changed the way things are done in their emergency department to ensure patients receive quick, efficient, quality care. Over a period of two years, adjustments were made, and now most patients are able to be seen in 15 minutes or less, when they visit either the emergency department in downtown Charlottesville, or the location on Peter Jefferson Parkway.
Despite the improved times, doctors say the care patients receive is not compromised. We asked Dr. Leroy Caudill, an emergency department physician, to talk about what the changes mean to him.
Q: How do decreased wait times help you better deliver quality care?
A: There are very specific diseases that are time dependent, one of which comes to mind is a heart attack. Other areas that are important are infections. As soon as we get antibiotics on board, the sooner we can treat them and keep them from deteriorating. Same thing with dehydration. So there are a number of things that are time dependent and any steps that have to be taken before they can see a nurse or doctor is detrimental.
Q: How do the doctors, nurses and EMS squads work together?
A: It starts, at least with the patients that come by ambulance, once the EMS staff has the patient. They call in and tell us what they have and what they're working with and then we know what to expect and what to get ready for.
Q: The Emergency Department is a very high stress area. Does the low wait time protocol make your job more difficult?
A: I think it actually makes it less stressful because the patients are happier then they were before. I've been doing this for 20 plus years, and it's actually somewhat less stressful than it was before. Nothing is worse then trying to take care of someone who is disgruntled. We track the times from when a patient arrives. How long have they been waiting? How long was it until they were seen? All that information is shared with the staff so we know how we are doing.
Q: How does it make you feel to be able to provide these services to your patients?
A: You're kind of asking someone who is biased, because like I said, ever since I've finished my residency I've felt triage is the wrong process. Every institution I've been associated with I've tried to get it eliminated and I was unsuccessful until I get here.
I think it enhances our ability. I think it enhances our treatment. I think it enhances our institution.