Building Goodness Foundation Arrives in Port au Prince
Posted:
Updated: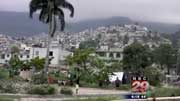 Charlottesville's Building Goodness Foundation is in Haiti continuing their efforts to teach people there how to build safer homes. Returning after the quake makes the mission even more eye opening. NBC29's Henry Graff is traveling with them and reporting on their trip:
There were mixed emotions as we arrived at the airport in Port-au-Prince, Haiti. The devastation can be seen from the sky and on the ground and for those who have been there before - this is not the Haiti they remember.
For Vinnie Valentino, a mason with the Building Goodness Foundation, the 7.0 earthquake made the streets of port-au-prince unfamiliar to him. "The difference is certainly the wholesale destruction. It's just unbelievable how much destruction there is." he stated.
As we made our way out of the capital city - on either side you saw the same view again…and again…crumbled buildings and piles of rubble everywhere. Many of the roads in Port au Prince are either closed or severely damaged, making getting from point A to point B that much more difficult.
We traveled through Leogane, west of the capital city. Nearly 80-percent of the buildings were destroyed in that city.
Valentino said, "The people are industrious and they're adaptable. They're doing the same things they were doing." Commercial flights were allowed back in here on February 19, bringing plenty of help, help that is still needed.
Henry will be spending the week in Haiti -- with Building Goodness volunteers -- and will be filing reports for us on what they're doing, what it means to people there, and what will still need to be done.