Henry Graff Prepares For Haiti
Posted:
Updated: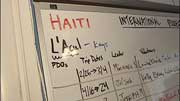 Left devastated by an earthquake more than a month ago, Haiti is trying to rebuild and a team from Charlottesville is helping.
NBC 29's Henry Graff is traveling with the Building Goodness Foundation in L'Acul, Haiti. The group of seven will be repairing and rebuilding homes destroyed by the quake. He introduces us to some of the team members as they prepare the mission:
Around a table four of us go over the final details of our trip to Haiti; the pre-planning, the logistics once on the ground, and the work that will be done.
"Our challenges on this trip is that we don't know everything about what we're walking into," said Team Leader Michael Boggs II.
That is because what was once standing is now a pile of rubble. The Charlottesville-based Building Goodness Foundation has been working in places like Haiti since 2003, building homes for those in need. Our trip will take us to L'Acul, pronounced "La Keel,' about 35 miles west of Port-au-Prince, Haiti's capital. It is a trip that will strain us all, both physically and emotionally.
"You try to be as prepared as you can but at the same time, it's like how do you prepare for shock," said carpenter and team member Curtis Hoffman.
For Hoffman, this is his first time leaving the United States and now he is facing third-world conditions.
"It's a sort of thing where you sign up and you figure it out as you go," he said.
"There's a part of me that is trying to prepare mentally for sort of a whole other layer of intensity in terms of the devastation and destruction from the earthquake," said BFG volunteer Louise Finger.
During the week long trip the team will face three missions: repair the damaged perimeter walls surrounding the compound where we are staying, pour the foundation for a new home, and in the steep mountains repair three kays, the Creole word for house.
"It's a constant struggle to see if you would have enough material," said Boggs. "You can get some things there but you are very limited."
But the payoff is big: changing the lives of Haitians forever.
"These people have so little and they are so joyful," said Finger. "It's just really the life perspective."
Perspective from both sides, thanks to the work Building Goodness Foundation is doing.