More Horses Seized from Sullivan
Posted:
Updated: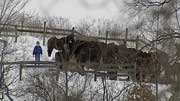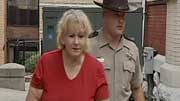 An Augusta County woman with a history of animal cruelty convictions is again having horses seized from her farm. The latest case comes after officers found one dead horse and dozens more malnourished.
Animal control officers, deputies and volunteers spent Friday feeding and inspecting horses on the farm of 61-year-old Terry Lynn Sullivan. Sullivan has twice been convicted of animal cruelty, and even pulled jail time for offenses dating back more than a decade.
This third investigation of Sullivan began when an animal control officer spotted horses searching for food at their edge of their property off Shaner Lane near Staunton.
Augusta County Sheriff Randy Fisher said, "He went in to check the welfare of the horses, saw that several of them needed attention, needed care and, found one dead horse in the barn".
A state veterinarian checked the remaining animals, and found them to be in need of food and proper care. Fisher said, "Obviously, looking at the horses some of them are in better health than others. Some of them are pitiful."
And they're not the first. Officers seized 19 Sullivan horses back in 1996, leading to her first conviction of animal cruelty. Another of her horses was found dead in April 2008. That summer she was again convicted, An Augusta County judge barred Terry Lynn Sullivan from owning horses for two years. Her attorney appealed that ruling, and now awaits a decision from a higher court.
Fisher said, "If and whenever that is finalized either to the benefit of Mrs. Sullivan or the benefit of the Commonwealth, then we'll react on what we're told to do by the court."
Sullivan could also face charges once animal control officers finish their investigation, and vets find the cause of the latest horse death.