Morgan's Warriors Stand Together
Posted:
Updated: Feb 15, 2010 10:57 AM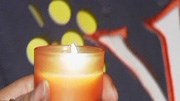 Friends and those who've followed Morgan Harrington's tragic case gathered Friday in Charlottesville to honor Morgan Harrington.
The vigil took place at the Copeley Road Bridge where Morgan was last seen alive back in October. While the crowd has gone home, the flowers, cards and posters for Morgan Harrington are still here. They're part of a tribute from a group called Morgan's Warriors. It held vigils Friday in Roanoke and in Charlottesville to honor her and the Harrington family.
It was a tearful tribute along a cold Copeley Road. A small crowd of mourners gathered Friday night in the spot Morgan Harrington was last seen alive. They stood in support of her friends and loved ones holding a similar vigil more than 100 miles away.
Kim Simmons is a member of Morgan's Warriors. She says, "Even though there's only a few of us here and a lot of us in Roanoke, we're still all united."
Morgan's Warriors have followed the case since the 20-year-old first went missing, often spending nights and weekends looking for the Virginia Tech student.
Simmons says, "We would organize searches here on our own, we would start here on Copeley Bridge and just walk in different directions."
Sharonda Jackson is one of six girls. When she heard that Morgan was found dead, she thought of the sisters she loves. "I cried about it and I was real sad and depressed, and still is because it's a hurting feeling, it's really, really a hurting feeling and I can only imagine what the family is going through."
Jackson says now her heart is with the Harringtons. "My love and support goes out to her family and thoughts and prayers go out every single day, every day, I pray for the family every night."
Morgan's Warriors say their vigil is a sign of solidarity, a sign that they'll stand with the Harringtons until they find out what happened to their little girl.
Kim Simmons says, "We've become like family, we're with Mr. Harrington, we're not going to stop until the perpetrator has been caught."
Morgan's Warriors has members from as far away as Texas. They stay connected through Facebook and say this won't be the last time they'll gather here on the Copeley Road Bridge.
Reported by Keith McGilvery