Harringtons Seek Closure On Copeley Bridge
Posted:
Updated: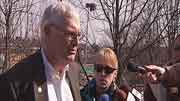 It is now confirmed: State police and the medical examiners office say the body found Tuesday on an Albemarle County farm was that of Morgan Harrington. That makes this 102 days since she vanished and one day into the murder investigation.
It has been a busy day for police and for Morgan's family. Evidence teams are still out at the farm, investigators are trying to find a killer and Dan and Gil Harrington are trying to figure out a way to put their lives back in order.
Although questions remain concerning the cause and time of death, the Harrington family expressed their gratitude to investigators and their relief in finding some closure to the case. It was an emotional return Wednesday for Dan and Gil Harrington, a trip back to the place where their daughter, Morgan, was last seen alive: the Copeley Road Bridge.
"I will tell you having seen," said Gil Harrington. "That girl even had some lovely bones."
"We were hoping to find Morgan alive but at least we now have some peace and we're able to have some closure," said Dan Harrington.
The state medical examiners office has now confirmed the skeletal remains found on a remote part of Anchorage Farm are those of Morgan. The 20-year-old disappeared during a Metallica concert October 17.
"I am happy that she was not alive long enduring unspeakable things," said Gil Harrington.
10 miles away along Route 29 in southern Albemarle County, detectives were back out on the scene combing more than 700 acres of land for clues. It could take days and police are working against the clock with winter weather threatening later this week.
"To find this person and find justice," added Gil. "Maybe that's my faith piece to make it okay; that justice is taken care of."
As for the $150,000 reward that has been offered by Crime Stoppers for information leading to Morgan's whereabouts; that is still up in the air.
"We are way to far from having enough facts to be able to make any kind of decision," said Jefferson Area Crime Stoppers' Fred Payne.
The Harrington's hope to have Morgan's remains next week. They want to plan a public memorial for their daughter and put a permanent marker up on the Copeley Street Bridge.