Keswick Sleep Institute
Posted:
Updated: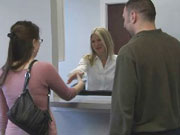 The Keswick Sleep Institute is a premier sleep center for the prevention, screening, diagnosis and treatment of sleep problems.
Research has shown that a good night's sleep is essential not only for optimal daytime functioning, performance and quality of life, but overall health as well. The results of poor sleep include daytime tiredness, fatigue and sleepiness, difficulty staying alert, concentrating, and remembering things, decreased eye-hand coordination and increased reaction times, and irritability, anxiety and depression. The consequences include social and relationship difficulties, poor school and job performance, mood disturbances, an increased likelihood of mistakes, injuries and accidents, high blood pressure, heart attacks, heart failure, diabetes, high cholesterol, obesity and stroke. Poor sleep can even shorten your life. Simply put, an improved quality of sleep translates directly into improved quality and possibly even duration of life.
The Keswick Sleep Institute is uniquely suited to offer a comprehensive, multidisciplinary, state-of-the-art, holistic approach to sleep issues. We view sleep, along with exercise and nutrition, as a vital component of overall health and wellness. Through consultation and education, our experienced, expert, highly trained team of board certified sleep specialists and staff are committed to helping you live a more productive, fulfilling and healthier life, and will leave no stone unturned until we achieve this goal. We are also dedicated to advancing the field of sleep health and wellness through clinical research, education and partnering with our community and business.
At Keswick Sleep Institute, "Patients are people first," says Terry Cralle, RN, Corporate Vice President. Our friendly, personable, compassionate staff is devoted to providing timely, personalized attention in a warm and caring environment. We schedule your appointment and sleep study within 1 to 2 weeks, conduct sleep studies 7 days week, and interpret your sleep study promptly. In addition, our state-of-the-art facility was designed specifically with your convenience, comfort and privacy in mind. Each spacious, private room contains a full-size, extra long bed, bathroom and shower, ceiling fan, telephone and flat-screen television. Our well-lighted and secure parking lot is located immediately outside the center for convenient, hassle-free access.
A good night's sleep can dramatically improve the quality and even duration of your life, and it can be yours again. It is time to take back control of your sleep and your life. Contact your physician or Keswick Sleep Institute today. The Keswick Sleep Institute is your first choice resource for sleep health and wellness.