Landmark Hotel Dispute in Court
Posted:
Updated: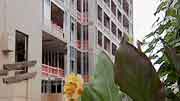 The dispute over the Landmark Hotel that was supposed to open on the downtown mall this past summer was back in court Friday.
Construction started on the Landmark Hotel in March of 2008 and then ground to a halt in March of this year. Halsey Minor owns and was building the hotel, Lee Danielson was his general contractor and both are suing each other.
Friday morning lawyers argued about what claims were true and could stand up in court. A circuit court judge dismissed Minor's claims against Danielson for fraud and inducement, saying there is not enough evidence to support them. But the judge has given Minor's side 21 days to re-plead the individual complaints against Danielson.
There's also still the breach of contract claim between Minor family hotels and hotel Charlottesville. Circuit Court Judge Edward Hogshire says he's like to see that go to arbitration.
Danielson's attorney, Connor Crook, said, "The court has stated pretty strongly that there is a preference for arbitration, that's Virginia public policy. He would like to see it in arbitration. He's also stated that this case is very important to the City of Charlottesville and the court and that he was gonna do everything he can to expedite the process."
Both sides will be back in court in February for more motions.
Friday's decision moves the legal battle along, but won't do anything about the shell towering over the downtown mall.