ValPak Franchise Owner Helping in Search for Morgan Harrington
Posted:
Updated:
A man the Harrington's have never met is doing what he can to keep hope alive, that's because 23-years ago, he found himself facing the same kind of pain. Tim Walker's older brother harry, vanished, in Maryland.
Tim Walker said, "And looking at their eyes when they speak, and what they're going through is the same look my mother has to this day. About 23 and a half years ago, my brother became missing,"
Investigators tried to find his brother, but all leads came up empty. "The police eventually did find his car, they did find his clothes, they did find his wallet which makes the story of my brother being vanished that much stranger because he just like poof into mid-air," he said.
The memory of that time launched Tim and his colleague Adam Swan into action. The two own Valpak franchises. Tim in the Shenandoah Valley, and Adam in Charlottesville.
Adam Swan said, "I was glad that he brought the idea up, I hadn't thought about it. I'm like why aren't we doing that?"
The two can reach 120,000 homes with a picture of Morgan, the 20 year old who also vanished, seemingly into thin air.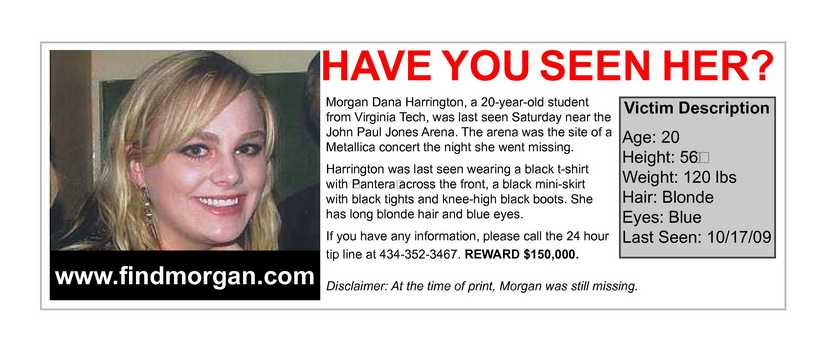 Adam Swan stated, "I hope they pull it out and put it on their fridge and let it be a constant reminder."
A reminder Tim's family didn't have access to when his brother disappeared.
Tim Walker said, "They did call us to interview us and ask us questions about my brother and thoughts of where we might think he would be, but it just wasn't a big news story."
In the end, it's the "not knowing" that breaks his mother's heart. Tim Walker said, "Even to this day, she still mails him a birthday card, even knowing he's not where he is."
Now Tim and Adam are mailing a reminder to keep hope alive for Morgan and her parents. The Valpak coupons are going out all across central Virginia this week. If you haven't received yours yet, look for it in the next few days.