Harrington Search To Continue Through Weekend.
Posted:
Updated: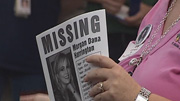 Morgan Harrington has now been missing for 20 days. All Friday, people who have never met her searched for her.
The volunteer searchers fanned out from the Copely Street Bridge, where she was last seen.
"We're just so grateful for all the community support that has been given to our family in the search for Morgan," says her father, Dan Harrington.
Every volunteer was given specific instructions.
"Once they go out and search and they come back, and we gather any information they may find out in the field, we pass all this back to law enforcement," says Laura Recovery Center founder Bob Smithers.
The volunteers all have different reasons for getting involved.
"I have an 18 year old daughter, first year in college. I know, based on what I've seen, that if I was in the Harringtons' shoes they'd be out here volunteering and doing what I'm doing," says Marc Powell of Charlottesville.
It may be symbolic, but the police don't have the manpower to get out and do this sort of thing. the community does. I think it's just a show of respect for somebody who might be in trouble.
State Police Lieutenant Joe Rader says the police investigation will benefit from this effort-"It'll be something else the police can look at and say 'ok we've looked in this area, the volunteers have looked in this area, the team leaders have looked in this area and it's something else to eliminate.'"
The Harringtons say seeing so many people who care gives them hope.
"There are moments when we do have despair and this has given me more strength to deal with this. It's the relationships and the community that we have that has held us up so far, and will continue holding us up, and will find our daughter Morgan," says her mother Gil Harrington.
More volunteers are welcome. If you'd like to join in, you can go to the Department of Forestry building. Searching is scheduled to begin Saturday and Sunday morning at 9:00 a.m.