Harrington Searchers Prepare Weekend Effort
Posted:
Updated: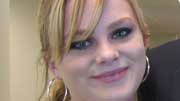 The search for Morgan Harrington is getting a major boost.
Hundreds of people turned out to the cavalier inn in Charlottesville Thursday night to help organize a search for the missing 20-year-old.
Those volunteers are putting final touches on the game plan for a three day search for Harrington that starts Friday, November 6th.
Will Shaw of Louisa is a Harrington search volunteer. Shaw knows what it's like to have your little girl go missing. "Your mind goes into hyperdrive, every conceivable possibility comes to mind."
Shaw's daughter was found after a short time safe and sound. Years later he's turning to help Dan and Gil Harrington. Shaw joined hundreds of others in Charlottesville Thursday night to organize a 3-day search for the missing Virginia Tech junior.
"I asked myself what if this were my daughter, I have three daughters, 31, 26, and 22, my heart goes out to the parents, my heart breaks for the parents."
The Texas-based Laura Recovery Center focuses on fostering a triangle of trust between the police, the community and a missing child's family. Volunteers say the more people who want to join in, the better.
Dawn Davis is with the Laura Recovery Center. "We want people to come out throughout the day and as they come and we gather the number of searchers assigned for an area and we'll send them out."
The search kicks off November 6th at 9 a.m. and runs through 3 p.m. Sunday. More volunteers are needed and should report to search headquarters at the Virginia Department of Forestry to help. Search leaders say they'll have enough work for everyone.
Volunteers must be at least 18 years old, must provide photo identification and are encouraged to dress in comfortable clothing. The plan is to have search teams on the ground Friday, Saturday, and Sunday from 9 a.m. to 3 p.m.
Volunteer opportunities include search efforts, paperwork, flyer distribution, food services and more.
If you would like to help in the search efforts, go to the Virginia Department of Forestry in Charlottesville anytime between 9 a.m. and 3p.m. Friday, Saturday or Sunday.