Charlottesville's Derby Dames A Big Hit
Posted:
Updated: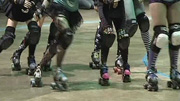 Charlottesville's Derby Dames describe their sport as bone-crushing, fishnet-ripping, mascara-smudging action on wheels. These fast ladies on skates took on the Northside Stranglers for their first home bout in Fishersville Sunday night.
It's certainly not your typical sport but the women who make up the Charlottesville Derby Dames say there's nothing like putting on the skates and rolling around the rink.
While many sports fans are watching football on Sundays, these women are taking roller skating to a whole new level.
Derby Dame Lex Gibson says, "It's the perfect sport. Where else can you have fun, feel sexy and feel powerful.
The Charlottesville Derby Dames are a group of powerful ladies who love to strut their stuff. The city's first roller derby team is seeing more fans at every game and with each contest the atmosphere gets a little rougher and a little louder.
Rebecca Cooper is a Derby Dame fanatic. "It's rowdy, it's fun, it's unconventional, there are rules but you could hardly tell."
What they lack in grace, these Dames make up for in attitude. They say it's all about finding your true self and enjoying every minute of the hard hitting action.
Cooper says "Even our refs just have the best time because it's a sport that allows you to just be yourself what ever that is, whoever that is."
For some of the dames, skating in this type of setting has become a lifelong passion that will only get stronger with age.
Derby Dame Lex Gibson says the game has changed her. "Roller derby saved my soul. It totally changed my life. It really did. And I will never give it up. I'll be 90 in a walker like wheeling myself around."
This is a competition and there is a scoreboard, but at the end of the day, the Dames say they don't care who wins or loses. It's all about having fun and feeling empowered.
Reported By Eric Fink