FBI Investigating Glenmore Missing Funds
Posted:
Updated: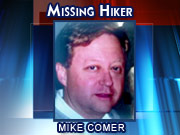 Albemarle county police and the FBI are now investigating missing money from Glenmore's community association. Representatives from Glenmore took their case to detectives Tuesday.
Mike Comer served as the treasurer of the community association for 15 years. Comer was reported missing from Wintergreen the same day he had a meeting about incomplete data for the audit that turned up a $666,000 loss.
A statement released today his wife, Kandi Comer, says the family is at a loss over what's happened and nothing seemed out of the ordinary in the days leading up to her husband's disappearance. She goes on to say the couple's children, ages 12 and 14, are devastated by their father's disappearance and life's not been the same since he went missing. You can read the full statement below.
Reported by Jenn McDaniel
See Bio / Email
---
Statement From Kandi Comer
I cannot begin to describe how difficult Mike's disappearance has been on our family. The worst part is that we do not know where Mike is or whether he is dead or alive. Our children who are 12 and 14 are understandably devastated. Life has not been the same for any of us since July 1st. Over the past 20 years I have only known Mike to be honest and hard working. He is a wonderful husband and a devoted father who truly adores his kids. Neither the kids nor Mike's parents or I saw anything in the days and weeks preceding Mike's disappearance that seemed suspicious or out of the ordinary. We are all just at a loss.
It is frustrating because we are thinking and worrying about Mike 24 hours a day and want to do something to help find him, but all we can do at this point is continue to pray that he is safe and will come home. I am grateful to the Wintergreen and Nelson County police departments who have been working hard to locate Mike and who have been keeping me up to date on the investigation. I know they will continue to be diligent in their search. I am hopeful that we will have some answers to our questions in the near future. In the meantime, I am trying to remain positive and focus on caring for my kids.
I want to thank everyone in the Glenmore community and in Charlottesville for the support they have shown to me and my children during the last 3 weeks. We appreciate your continued prayers for Mike and our family and ask that the media respect our privacy.