Update: Comer Still Missing
Posted:
Updated: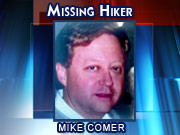 Comer Still Missing

More>>

Tuesday, April 13 2010 4:25 PM EDT

2010-04-13 20:25:38 GMT

Michael Comer disappeared Wednesday and no one seems to know where he went. A search near his home at Wintergreen turned up nothing.

Full Story

Michael Comer disappeared Wednesday and no one seems to know where he went. A search near his home at Wintergreen turned up nothing.

Full Story
A Nelson County sheriff's investigators told NBC29 Monday afternoon that there's nothing new to add to the Mike Comer missing man case.
The treasurer of the Glenmore Country Club vanished last Wednesday after his family says he went hiking near their property at Wintergreen.
The Glenmore Community Association released a statement to the press late Monday afternoon. In it, the club says Comer failed to show for a meeting to "discuss incomplete data made available to the auditor" when he disappeared. They say they've replaced Comer as treasurer and taken away his bank access to community funds.
They also say they have confirmed there is still money in the accounts for day-to-day needs but are holding off on any major expenditures until an audit is complete. They are also reviewing the old books to make sure money was handled correctly.
The homeowner's association there has an annual budget of more than $700,000. You can read the press release information below.
Reported by Kim Saltmarsh
---
Press Release 7/6/09 5:00 PM
Glenmore Community Association - Response to Disappearance of Mike Comer
Mike Comer has been Treasurer of the Glenmore Community Association (GCA) for several years, and all residents are naturally very concerned about his disappearance. He has been a supportive and well-liked board member, representing the developer, Glenmore Associates. The GCA is in the midst of an audit of the 2008 accounts, being undertaken by Robinson, Farmer, Cox Associates. A meeting had been arranged between Mike and two GCA board members for 10:30 AM on Wednesday July 1, to discuss incomplete data made available to the auditor. Mike failed to show up to this meeting and has not been heard from since.
As a result of this, and in an abundance of caution, the GCA board decided to take the following steps to secure its assets:
Mike Comer was replaced immediately as Treasurer.

Our bank has been instructed that all account transactions must now be authorized by the new Treasurer or the President.

We have confirmed that sufficient funds are available to continue normal operations and maintenance, including payments of all outstanding bills.

We will postpone signing contracts for major projects (such as this year's road re-surfacing) until the audit has confirmed the availability of sufficient funds in the reserve accounts.

We have extended the scope of the external audit to review account transactions and balances both prior to and beyond the 2008 audit year.
The extended audit is expected to be complete in about two weeks, after which more information will be made available.
Background Information:
The GCA is the homeowners' association for residents of Glenmore.

Current membership represents over 700 homes.

The annual budget for 2009 is $732,000.

Financial assets reported at 5/31/09 are $983,000.
These assets primarily comprise our operating account and various reserve accounts (such as road resurfacing reserves or storm management reserves).
All GCA assets are fully independent of those held by the Country Club, Glenmore Associates, or any other entity.
The GCA has never performed an external audit prior to this year. The audit was intended to provide a solid basis for handing over the role of treasurer to one of the elected board members during the second half of this year.