Police End Search for Missing Hiker
Posted:
Updated: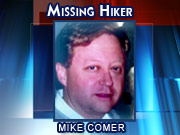 After spending all day looking for a missing hiker near Wintergreen, police have ended their search. Officials say they will not search again on Friday.
Forty-five-year-old Mike Comer was last seen around noon on Wednesday headed out for a hike near the ski resort.
Comer, who owns property on the mountain, arrived at Wintergreen on Wednesday. He left alone for an afternoon walk through the woods and when he did not return that evening his wife filed a missing persons report. NBC29 was told he does not have a cell phone with him.
Two search parties were sent out Wednesday night but their efforts were stopped due to darkness and wet terrain. Wintergreen Police and the Nelson County Sheriffs Office resumed the search Thursday morning, with additional search and rescue crews. They used dogs to search for Comer. They ended that search Thursday night.
A Wintergreen Fire and Rescue official said rescue crews combed the 30 miles of the trail system twice and is confident if Comer was disabled or injured on the trail, crews would have found him by now.
Though crews will not resume searching Friday, Nelson County Sheriff David Brooks says law enforcement is still treated this as a missing persons case. He also says there was no evidence of foul play nor any other clue as to where Comer might be. He also said he couldn't speculate about the disappearance or Comer's possible choice to disappear.
If you have any information, you are urged to call the Wintergreen Emergency number at 540-910-0000.
Reported by Liz Nagy
See Bio / Email