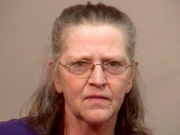 A Louisa County woman accused of dumping her boyfriend's body down a well pleaded not guilty Thursday morning.
Sixty-three-year-old Ulisa Chavers is charged with hiding a body, identity theft, credit card fraud and possessing a sawed off rifle.
Police found the body of her boyfriend, Reginal Bowles, hidden inside a well in March. Chavers' jury trial is scheduled for October 21.