Murder Suspects in Nelson County Court
Posted:
Updated: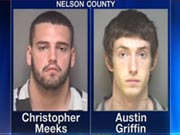 The two men accused of killing a 73-year-old grandmother were in Nelson County court Wednesday afternoon. Twenty-year-old Austin Griffin and 18-year-old Christopher Meeks spoke to the judge through a closed circuit video from the Charlottesville-Albemarle Regional Jail.
Both Meeks and Griffin will have to work out some attorney issues. Griffin told the judge his parents hired a lawyer for him, but there was no lawyer present so he'll be back in court next week. And Meeks was given a court-appointed lawyer.
Both men face four charges, including first degree murder. The judge told them this is an ongoing investigation and there is a possibility it will become a capital murder case.
One week ago friends found 73-year-old Opal Page dead in her home. Police say they recovered a knife they believe the two men used to kill Page.
We spoke with several people who say these two men are no strangers to trouble. "I heard that she taught them when they were in school, so I'm sure when they broke in, she probably said, 'Austin, Chris, what are ya'll doin here?' I know she probably said, 'What are ya'll doin?'" said Bernadine McGann, a neighbor of Austin Griffin.
The families of the suspects were in court. They did not have any comments for us on the case.