Grand Jury to Hear Louisa Body-in-Well Case
Posted:
Updated: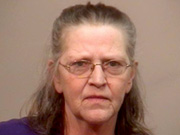 The Louisa County woman charged with dumping her boyfriend's body in a well waived her right to a preliminary hearing Monday. Ulisa Chavers, 60, will now face a grand jury on May 4.
Chavers is charged with hiding a body, possessing a sawed-off rifle, identity theft and credit card fraud.
Police discovered the body of Reginal Bowles, 54, in a well behind his house on Garretts Mill Road in Louisa. Bowles' son reported his father missing in November of 2008.
During the investigation, Chavers admitted to Louisa authorities that she also buried the body of her previous husband, Clent Chavers, behind her home in Amelia in 1994. Crews later uncovered the body behind the home at 17701 W. Pridesville Road.
Major Donald Lowe at the Louisa County Sheriff's Office says a possible motive for not reporting both of these deaths is the money Chavers has been collecting from social security.
The charges in Louisa County carry a maximum sentence of 25 years.