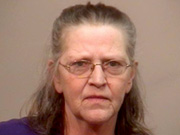 The woman accused of hiding her boyfriend's body down a Louisa County well is about to get a new lawyer.
The public defender who the court assigned to Ulisa Chavers withdrew himself from the case on Wednesday. The court will assign a new lawyer on Friday.
Chavers is charged with hiding a body, possessing a sawed-off rifle, identity theft, and credit card fraud. Police found the body of 55-year old Reginal Bowles in a well earlier this month.