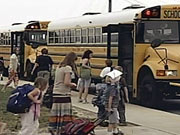 Saint Anne's Belfield School closed Thursday and will be closed again Friday because of the number of kids who have been out sick.
STAB headmaster David Lourie says they canceled classes at the Upper School because nearly 20 percent of the kids were out sick and they wanted to break the cycle.
The Lower School was already set to close for parent teacher meetings.
Reported by David Foky
NBC29 HD News