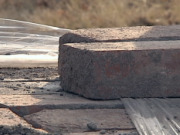 Charlottesville will sell, auction and reuse hundreds of thousands of old bricks that are being removed from the Downtown Mall.
The city is hoping it can cash in and recoup some of the costs involved in the multi-million dollar mall revamp.
A limited number of bricks will be sold Friday at the city's monthly warehouse outlet sale located at 325 Fourth Street NW. Sign up begins at 7 a.m.
There are eight pallets of cleaned bricks ready to go, and people can buy up to 10 bricks for $5 a piece. The city will also auction off larger quantities of bricks to the highest bidder online.
"We have numerous individuals and companies that are interested in using bricks for different projects," said city warehouse associate Shannon Morris. "Some people are building a fireplace, you know, projects around the house."
The remaining bricks will be ground up for case material for trails in the city. The goal is to have no leftover bricks.
One company has told the city it is interested in buying about 10,000 bricks.
Anyone interested in buying bricks should email Shannon Morris or call (434) 970-3865.