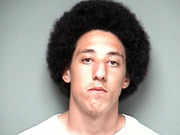 The man wanted in connection with a New Year's Day shooting has turned himself in to Buckingham County police.
Lance Daryl Perkins, 20, now faces multiple felony charges. He is a suspect in the shooting of a 19-year-old that took place early Thursday morning.
The victim was treated at the University of Virginia Medical Center.
Perkins is being held without bond at Piedmont Regional Jail.
Reported by NBC29 HD News