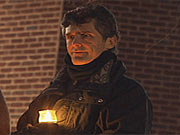 Gay rights supporters rallied in cities across the country Saturday to show solidarity in their search for equal rights.
One of those demonstrations marched across Charlottesville's Downtown Mall, where dozens of people braved the wet weather to support same-sex marriage.
The Light Up the Night demonstration was designed to promote the rights of same-sex couples.
"This demonstration is basically to draw attention to the fact that gay and lesbian citizens in the United States and Virginia, and all the other states, don't have the civil rights and civil liberties as they should," said organizer Andre Hakes.
Hakes also stressed the group's desire for universal acceptance of gay partners when it comes to issues like healthcare, child custody and taxes.
Demonstrators were encouraged to be peaceful and not engage in chanting or to hold large signs.