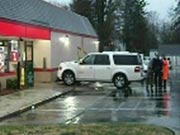 A 14-year-old girl was hit by a car in the Hardee's parking lot in Waynesboro Thursday afternoon. The call came in a little after 4 p.m.
Police say 49-year-old Amy Sledge was at the Hardee's to pick up her daughter and 14-year-old Lindsay Hyson. They say Sledge was attempting to pull her vehicle into a parking spot when her foot slipped off the brake pedal and the car struck Hyson, who was standing outside.
The impact knocked Hyson against the building and she was pinned between the vehicle and the building.
Hyson was taken to Augusta Medical Center where she was pronounced dead.
Sledge was charged with reckless driving. The investigation of the accident continues.